West Coast Magnas
Our Western Rally Page
Western Rally Photos
NEW
Photos Added 8/7/04
Western Rally Videos
Western Rally Blog
Articles & Items
Basic Rally Info
Western Rally Awards
Rallymaster's Thoughts
First Timer Review
NEW
Message From Deb
Rally Road Reviews
NEW
Pat & Jan's Big Trees Adventure
---
The 2004 MRA Western Rally Was Held
In South Lake Tahoe CA. and Mariposa/Yosemite CA.
From July 19, 2004 to July 23, 2004

CLICK HERE TO VIEW THE OFFICIAL MRA PHOTO PAGE

The MRA is now taking suggestions and looking for hosts for the 2005 MRA Eastern & Western Rallies.
For More Information & Submissions, Click Here


The MRA Western Rally enjoyed awesome rides, beautiful scenery, tech talk, good eats, wrenching, muffler sound comparisons, tire width competitions, modification discussions, relaxing conversations and of course, more great riding.
The MRA Western Rally Attendees (most of them)


Thoughts From The Rallymaster

Well, even with the relatively small turnout, I feel the Rally was a great success from several standpoints. We got to meet some really nice people from a wide area. There were couples from California, Montana, Utah, and Canada, and solos from Michigan, Oregon, Georgia, and California. We all got along together well and had fun both on and off the bikes. There were no accidents, despite a couple of close calls, no mechanical breakdowns (we were on Hondas, after all) and no illnesses. I know that probably sounds dull to those of you who weren't there, but trust me, it was a terrific week.

The weather was extremely cooperative, being clear the whole week, except for the few raindrops we got on our windshields on Friday afternoon. By then it was all over anyway, except for the closing dinner. The transition trip to Mariposa on Wednesday was quite hot (about 105°) which made the motel pool feel even better. And by Thursday the smoke from the fire in Yosemite had cleared enough to give a spectacular view from Glacier Point.

From the comments I have heard, everyone enjoyed the choices of roads, mostly 2-lane mountain twisties connected by a few stretches of 4-lane with well-banked sweepers. The scenery was breathtaking, and we stopped often just to enjoy it. Val and I were the lucky ones. We got to do the whole thing twice; once by ourselves a month before to plan gas, meal and picture stops, and again with the group. Eat your hearts out, guys 'n' gals!

The only hard part for me was trying to judge what speed would be comfortable for the group. I'm sure some of the newer riders felt the pace was too fast. Then again, there were some who would have liked it even faster. (Right, Chad?) It's really hard to judge from the front just how the riders behind you are doing. At every stop, they were all still there, so I figured that meant everything was OK. If the group had been larger, I would have considered splitting into two groups to accomodate differing levels of speed vs. comfort. But the faster riders tolerated the pace, and the newer riders probably honed their skills a little by keeping up.

I'd do it again in a heartbeat!
--
Dobie


A First Timers Review of the MRA Western Rally

What a great experience! I ride one of my motorcycles almost everyday. I ride on short trips with a couple of different friends occasionally. The Rally experience and atmosphere is completely new, cool and awesome to me.

Dobie & Val did a fantastic job of putting together the whole rally. They took the whole thing on their shoulders and provided all the attendees with a great time. The selection of roads contained something for every type of rider, covering all the bases from major freeway to one-and-a-half lane super tight twisties. The quality of road surface was universally good, making for smooth riding (except for one or two constructions short spots that got started just a few days or weeks before the rally). The mid-week rides kept the cager traffic to a minimum.

The scenery is unsurpassed, in my opinion. They led us through some of California's most beautiful real estate. Lake Tahoe speaks for itself, a high mountain lake without competition. The perimeter roads a combination of smooth sweepers and tight S-curves with a stunning view. The trip to Virginia City provided a taste of the high attitude desert. The California Gold country with it's rolling hills and lonely back roads. The high Sierra mountain passes like Ebetts, Sonora and Monitor that provided impressive tree groves, intimidating rock walls and cliffs, serene lakes, high country meadows & ranges and virtually unlimited breathtaking vistas. And then of course, there was Yosemite which I could never describe to anyone's satisfaction.

There were early morning group breakfasts where in three days attendees had found a favorite IHOP server. Evening meals could be pretty fun too: the pizza place that emptied out 'cause we scared the locals; the nice Italian place where for some reason, servers and customers sang a lively rendition of Happy Birthday to Dobie; Happy Burger with the "Sierras Largest Menu" and awesome customer service (how was that giant wiener Doug?); the upscale Red Fox where a few went for a nice dinner with a little attitude.

There were group lunches in little high Sierra "restaurants" with great burgers and slow chicken. Roadside diners in the foothills where the owner was the server and had a sense of humor to go along with good food and buckets of water on a hot day. And then one of my favorites, a simple sandwich lunch along the runoff creek at the bottom of Bridelveil Falls in the Yosemite Valley.

And while all the things mentioned above made for a great MRA Western Rally, the thing that put it over the top and made it fabulous - the Rally attendees. What a great bunch of people. Riders in all shapes and sizes. Riders of more than 20 years crusin' with new riders sporting only one month of experience. Vintage Magnas side by side with a couple of 2003's. Speed demons and cowboys riding with easyriders and smooth cruisers. (you all know who you are) The personalities and riding styles meshing together for good riding with just enough tension to keep it all interesting. I hope that we'll all ride together again soon, at the very least hooking up for the 2005 Western Rally.

Again a hug or a handshake to all my new riding buddies. A special kudos to the MRA for making the Eastern and Western Rally's possible. Most of all, a very special thanks to Dobie and Val for all their hard work.

Until next year.

Keith
PokeyV65
MRA #1462
First Year Rallier



A Message From Debbie

We are now back home in Mission, BC, Canada. On behalf of Ian and myself we would like to extend our sincere thanks to Dobie and Val Gillum for the wonderful 2004 Western Magna Rally they graciously hosted. A rally of this caliber does not happen by itself. It was very clear throughout the ride that Dobie and Val had put a lot of effort into the planning of the event so that we were able to squeeze as much as possible into the 5 days – and we certainly did do that! Everyone who attended the rally agreed that the riding was fabulous (we must have ridden thousands of twisties!!!), the scenery was magnificent, the weather was fabulous, the restaurant and motel stops were great, and most of all the event was a lot of fun! Who could ask for more? To the new friends we made this year I sincerely hope we will have the pleasure of riding with you again in the future.

Debbie
Mission, BC Canada
MRA # 1317



The After Rally Awards

MRA Member's Best New Generation Magna: Dobie Look
MRA Member's Best Vintage Magna: Joe Look
MRA Member's Longest Distance Ride (female): Debbie
MRA Member's Longest Distance Ride (male): Joe
MRA Member's Longest Distance Ride (2 up): Pat & Jan
MRA Member's "Most Seasoned" Rider: Ron
MRA Member's Youngest Rider: Todd

And thanks to the MRA and Cycle-istic we had plenty of raffle prizes to be handed out. They included MRA hats, shirts, patches, stickers & pins, SR100 cleanning kits, soft side cooler sets, and Cycle-istic products like Handle Bar Risers, Passenger Foot Peg Extenders, the V4 engraved Back Rest Plate and, of course, the extra wide tire Brakestay Conversion. everyone got to be a winner!

Basic Rally Information
---
The Where
South Lake Tahoe, Gold Country and Yosemite National Park

The When

July 19-23, 2004
July 18 7:00pm - Informal Meeting
July 19 Tahoe Ride [map]
July 20 Gold Country Ride [map]
July 21 Transition Tahoe to Mariposa [map] [photo]
July 22 Yosemite National Park Tour Ride [map] [photo]
July 23 Transition Back To Tahoe [map]
July 23 Evening - Farewel Awards Dinner

The 10 Day Weather Forecast





The Lodging





Reported Free Wi-Fi Locations

South Lake Tahoe
Alpen Sierra Coffee Co
3940 Lake Tahoe Blvd # 1
(530) 544-7740
Online Info


Yosemite (Mariposa)
Best Value Mariposa Lodge
5052 Highway 140
The Rides
July 19 - Around Tahoe to Nevada Loop
The Lake Tahoe perimeter, over Mt. Rose, historic Virgina City

July 20 - California Gold Country Tour
South & east passes, west into CA gold country, lakes and pines, Hwy50 return

July 21 - Pass Transition to Yosemite [map] [photo]
Leave Lake via, 89 south, west over Ebbetts Pass, Calaveras Big Trees, Angels Camp, the 49 Twisties to Yosemite (Mariposa)

July 22 - Yosemite National Park Tour Ride [map] [photo] [photo2]
Oakhurst, 41 Entrance, Glacier Point, Yosemite Valley, 140 back to Mariposa

July 23 - Journey Back to South Lake Tahoe [map] [photo]
49 to Sonora, 108 over the scenic Sonora Pass, the beautiful 395 and 89 over Monitor Pass to Tahoe


You Are Welcome To Attend Any Portion Of The Rally You Can

The Email Invitation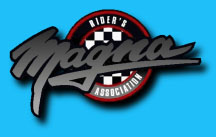 Magna Rider's Association
2004 Western Rally
It's almost time for MRA's 2004 Western Rally. And we want you to be there!
With rides starting in only 3 weeks on July 19th in South Lake Tahoe, the MRA Western Rally will be touring some of the most beautiful and rider friendly roads and real estate California has to offer. The scenic vistas of Lake Tahoe's perimeter, the high altitude (8000+ feet) Ebbetts & Sonora passes, the rolling hills and sweeping turns of the California gold country, the twisties and lakes of the mid-state Sierras and ,of course, the most famous of national parks, Yosemite.

So come and join fellow motorcycle riders (and Magna enthusiasts) for these awesome rides. Along with the ridin', there will be plenty of socializing, eating, games, modification comparing, tech talk, polishing, skills discussion, gambling, exaggerating, engine tuning, riding style suggestions, tire width comparisons...



You Are Welcome To Attend Any Portion Of The Rally That You Can. You Don't Have To Attend The Whole Time.



The Rally starts in South Lake Tahoe on the evening of the 18th with an informal meeting. It will give everyone a chance to introduce themselves and become familiar with fellow riders and passengers. We'll cover the various routes and rides scheduled. Other topics to cover will be common group riding etiquette, rules and safety as well as universal hand signals. Discount lodging has been arranged for the Tahoe nights of the 18th, 19th & 20th. You will need to make your own reservations.

On the 21st, after awesome rides around Tahoe and surrounding areas on 19th and 20th, the group will cruise it's way south, over Ebbetts Pass to Mariposa, our more southern home base for the Yosemite rides. Discount lodging has been arranged for the Mariposa nights of the 21st & 22nd. You will need to make your own reservations using the info at right.

The rides offer a wide variety of road types, from freeways to tight narrow twisites. The thing they all have in common is well cared for asphalt in beautiful perfect weather.



For More Details & Information Visit
MRA Western Rally at Cycle-istic.com
or the MRA Web Site

RALLY RIDES & EVENTS

July 18 - 1st Get Together
An informal evening meeting and social hour to meet each other an cover some rally information

July 19 - Tahoe Loop
The Lake Tahoe perimeter, over Mt. Rose, historic Virgina City

July 20 - Cali Gold Tour
South & east passes, west into CA gold country, lakes and pines, Hwy50 return

July 21 - Transition Pass
Leave Lake via, 89 south, west over Ebbetts Pass, Calaveras Big Trees, Angels Camp, the 49 Twisties to Yosemite (Mariposa)

July 22 - Yosemite Tour
Oakhurst, 41 Entrance, Glacier Point, Yosemite Valley, 140 back to Mariposa

July 23 - Journey Home
49 to Sonora, 108 over the scenic Sonora Pass, the beautiful 395 and 89 over Monitor Pass to Tahoe

July 23 - Evening (After Ride)
The Farewell Awards Dinner.





LODGING INFO

South Lake Tahoe
18th, 19th & 20th
Super 8 Motel
3000 Lake Tahoe Blvd. (Hwy 50)
1-800-237-8882
Reservation Code: C G M R R

Mariposa (Yosemite)
21st & 22nd
Miners Inn Motel
Hwy 49 North & Hwy 140 North
1-888-646-2244
Reservation Code:
Magna Riders Rally

There may be opportunities to share rooms. Contact us.

---
www.WestCoastMagnas.com
© 2004 kewpro.com